Ticmate Beneficenza
E' possibile gestire un'impresa che guadagna denaro migliorando il mondo allo stesso tempo? Noi pensiamo di sì. Per questo motivo abbiamo concepito Beneficenza Ticmate.
Noi di Ticmate ci impegniamo ad offrire ai viaggiatori le migliori esperienze in giro per il mondo. Il nostro scopo è di avere una compagnia sana che aiuti a migliorare il mondo per i nostri clienti, impiegati e fornitori. Al momento i membri del nostro staff sono 27, di cui 18 a tempo pieno. Inoltre è molto importante per noi essere attivi nel sociale e lavorare per un mondo migliore, perciò doniamo il 10% dei nostri guadagni a Medici Senza Frontiere (MSF).
Dal 2009 abbiamo donato più di 2 553 500 corone svedesi in beneficienza.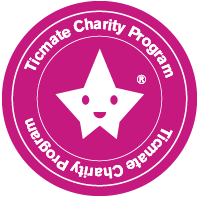 Medici Senza Frontiere
MSF è un'organizzazione medica umanitaria che salva vite ed allevia le sofferenze dove più ce n'è bisogno. I medici di MSF assistono tutte quelle persone le cui vite sono segnata da crisi, guerre e catastrofi naturali, indipendentemente da razza, etnia e religione.
Noi di Ticmate li supportiamo nel loro lavoro e dal 2011 abbiamo donato in totale 2.123.686 SEK:

Tra il 2015 ed il 2018 abbiamo donato 100.039 EUR per aiutare i rifugiati di tutto il mondo.

Nel 2014 abbiamo donato 48 560 EUR per la lotta contro l'Ebola e per aiutare la Repubblica Centrafricana.

Nel 2013 abbiamo donato 21 780 EUR per il lavoro di Medici Senza Frontiere in Siria.

Nel 2011 e 2012 abbiamo donato 39 580 EUR, di cui 7 640 EUR sono andate a Medici Senza Frontiere.

"On behalf of MSF I would like to thank you all at Ticmate for your hard work which resulted in a generous gift to our work with Ebola and our projects the Central African Republic. We are really impressed by and thankful for your commitment to our organisation and the work we do."
-Katharina Ervanius, from 'Doctors Without Borders'

Learn how Doctors Without Borders work here.